---
Welcome to Complexity Explorer!
Complexity Explorer provides online courses and other educational materials related to complex systems science. Complexity Explorer is an education project of the Santa Fe Institute, and is funded by a grant from the John Templeton Foundation and by user donations.
Haven't registered?

Register hereto enroll in courses and receive updates

Already registered?
---
Recent News
See all news stories

21 May 2015

A Summary of Alan Lightman's SFI Community Lecture

By Gabrielle Beans

Science and religion—can one exclude the other? Is there such a thing as free will? Does our universe care about life? On May 6th, at the Santa Fe Institute's Community Lecture at the James A. Little Theater, I sat in a full room pondering these... Read more

9 May 2015

In this post we interview economist W. Brian Arthur, a founder of the field of "Complexity Economics". Brian Arthur received a doctorate in Operations Research from UC Berkley and has served as both resident and external faculty at the Santa Fe Institute. He is the recipient of the Schumpeter Prize in... Read more

17 Apr 2015

A Summary of Alex "Sandy" Pentland's

SFI Community Lecture

By Mary Hoff

What each of us does over the course of a day — where we go, whom we encounter, what we buy — may seem rather mundane and inconsequential. When aggregated with activities of others, however, our seemingly simple... Read more

12 Mar 2015

In this post we feature complex systems scientist and professor Luis Rocha, of the School of Informatics and Computing at Indiana University. Luis directs the Complex Systems graduate program in Informatics. He has also served on the permanent staff at Los Alamos National Laboratory... Read more

25 Jan 2015

In this post we feature Jon Wilkins, a theoretical evolutionary biologist and the founder of the Ronin Institute for Independent Scholarship. Jon received a BA in Physics and PhD in Biophysics from Harvard, as well as a Junior Fellowship in the Harvard Society of Fellows. Jon has... Read more

Previous News Story

Next News Story
---
Upcoming Courses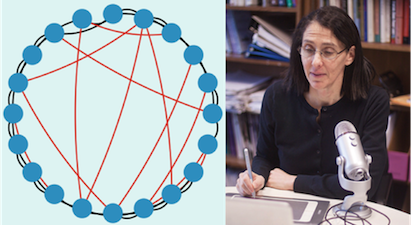 Starts July 6, 2015
Instructor: Melanie Mitchell
No prerequisites: Open to everyone!
---
Please send questions or report any problems to admin@complexityexplorer.org